Here is a case study of how Office Objects database design and development helped Saipem work more efficiently.
Saipem is based in over 60 countries and in almost every world oil & gas market. It specialises in construction for offshore and onshore drilling projects.
My department, based in Aberdeen, had been using a 15-year-old database for technical and operational reports. The database was out of date and under threat of replacement because we had lost the skill-set to manage it. We needed a new bespoke database design. Operational and technical staff use the database  for personnel and equipment reporting. The database is  also used for  maintenance tracking and fault trends. It is also used for material requisition, inventory and stock control. As the database was becoming a source of frustration we  required an overhaul. Becuase of our evolving business requirements it needed to streamlined.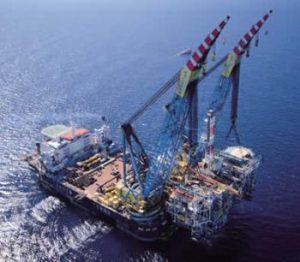 So what did Office Objects do?
Office Objects provided us with bespoke database updgrade. They successfully distributed the data over 30 individual systems. They provided an excellent software option to manage this. Almost five years later, the technical reporting database has a new lease of life. We are considering adding new features to take advantage of our many years of operational and technical data.
On behalf on my department, I wish to thank Office Objects for their attentive and patient service. This allowed us to avoid adopting an alternative 3rd party application. Instead they provided the necessary training to enable us to manage our own front-end database.  They also provided customised updates and to ensure essential data maintenance could be carried out.
Colin Hicks. ROV Project Superintendent. Sonsub Division of Saipem Ltd.
More about Saipem.
Saipem carry out oil & gas-related activities in remote areas and deep-waters. We have four Business Units: Engineering & Construction (E&C) Offshore and Onshore, Drilling and Floaters. We excel in providing engineering, procurement, project management and construction services. Crucially, we provide distinctive skills and capabilities in the design and execution of large-scale offshore and onshore projects. Similalrly, we also offer cutting-edge technologies for the gas monetization and heavy oil exploitation.
In Europe Saipem has numerous offshore oil production and pipeline projects. We have projects in the Mediterranean and North Sea to oil refineries, petrochemical plants and onshore oil & gas transportation systems. The headquarters is in Milan. There are major hubs in Paris, Rome and Fano. Saipem also operates out of sizeable project execution centers in the UK, Romania, Croatia and Norway.
If your company needs help with database design and development contact Office Objects for a free consultation