Database development for One-to-One 
One-to One (Enfield) is a Registered Charity and a Company Limited by Committee made up of unpaid people. One-to One helps people with leaning difficulties to have better lives and to speak out about and take part in all aspects of community life in Enfield.
Open OneToOne Website(in a new Tab)
Office objects worked in conjunction with us in One-to One to develop a database software solution and reporting system which covered their key activities – from registering members to scheduling events for members to take part in. One-to One registers people with leaning difficulties as members and enrols them on events which are organised by both One-to One and by external organisations. Such Events often require considerable administration and were previously stored in spreadsheets and held separately from the registration details of members – making maintenance and coordination of activities and communication with members time consuming.
Office Objects and One-to One designed a new Database development solution which was helped to streamline the maintenance and scheduling of events and reduce the risk of double entry of members and to centralise the holding of member and staff details in the database – including health details – in a way that is easy to access and simple to operate and which helps keep details up to date.
Office Objects designed a flexible Reporting system as part of the Database development Solution to meet our specific requirements which filters data before outputting to Excel in a structured way and provide data to One-to One stakeholders and provide operational data to staff regarding member reference and event and scheduling data."
Claude Communication Manager One-to-One
Some of One-to-One activities. :-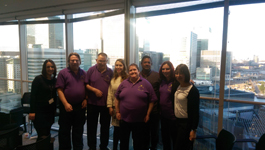 Developing self-esteem and leadership amongst our members
Supporting people to speak out for themselves and other people
Supporting people to get out and be included in the community
Supporting people to look after themselves and improve their health
Promoting volunteering
Supporting people to run a social business
Working in partnership with the council, health, charities and businesses to
make Enfield a place that includes people with learning difficulties.
If your company needs help with database design and development  contact Office Objects for Contact us for a no obligation chat.